Every Bathroom small or large essentially needs some kind of storage. That's why you will need cabinet storage. Does your bathroom look too full or feel cramped? Then it is most probably bathroom essentials like toiletries, towels, soaps, and shampoos are everywhere. It is not uncommon to have a bathroom with a lot of clutter. Although it is not great for relaxing space and spending time, you don't probably have suitable storage available in the bathroom. While you may already plan for a bathroom vanity unit. It is important that you know the type of storage you have available.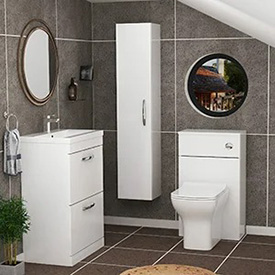 In this blog, we are going to explain various cabinets storage ideas that will assist you to make the best use of available space. 
Bathroom Cabinet Storage – How It Helps?
Storage is an essential need of every modern bathroom; you can do it in a number of ways. There is a type of curtain bathroom furniture available in the market that we can use for such a purpose. Among these, bathroom cabinet storage is the most popular type. It provides the space to store bathroom items while preventing them from a humid environment and keeps these concealed or hidden from your sight. 
Bathroom Cabinet Storage Ideas. 
There are various kinds of bathroom cabinet storage available in the UK. You should pick the type of vanity unit in accordance with overall aesthetics and layout. 
Wall Hung Vanity Cabinets.

As it's clear from the name that it is floating style storage. It is usually a cabinet with a sink fitted over them. That such furniture units are called vanity units. These are minimalist units that make them a great option for a small bathroom or cloakrooms. Due to the floating style, the space under the storage unit remains unoccupied. That makes them a great choice to make your small space appear spacious. 
Corner Fitting Cabinets.

There are types of vanity units that are specially designed to fit into the bathroom corners. The idea is to utilize the space in corners that often remain empty. That makes them a great space-saving storage option for small bathrooms or cloakrooms. They are available in both freestanding and wall-hung style vanity units. 
Combination Cabinets Vanity Units.

Another type of bathroom storage that you can install in the bathroom is a combination vanity unit. It is a kind of fitted bathroom storage that has a single or double sink over them. Besides the storage, these usually have back-to-wall toilets with their WC fitting inside such units. The great thing about this type of storage is that these are a space-saving option. As everything comes in one unit, it can be economical while allowing you to make the best use of space. 
Tall Boy Cabinets.

These are tall cabinets that are usually hung on the wall, creating a space-saving storage option for the small bathrooms. Besides providing ample storage capacity, these appear attractive to look at. 

Single and Double Sink Vanity Units.

These are a kind of storage solution where you have a freestanding, or a wall hung style storage with one or two storage available under the sink. Not only are these great for creating a style statement, but they offer ample storage as well. The dual sink vanity units are an excellent choice when you have multiple people who want to get ready for work in the morning. 
Step By Step Tips for Bathroom Cabinet Storage. 
When you plan to get bathroom cabinet storage, it is important that you follow these steps. 
Step-1 Follow the Bathroom Theme.   The first thing that you should keep in mind is that your storage cabinet should be in accordance with the overall bathroom theme. 
Step-2. Measure The Available Space Carefully. The second step in the process should be measuring the available space that you want to allocate for storage. It will help you determine the size of the vanity unit.
Step-3. Ensure Current and Future Needs. It is important that you consider whether your current and future needs are fulfilled with the cabinet's storage. In order to make it possible, you should consider whether your storage needs are going to increase in the future. 
Step-4. Budget. The bathroom storage furniture comes in various ranges. The price usually depends on the material and style. Therefore, it is important that you keep your budget in mind before getting ahead with a vanity unit purchase. 
Final Thoughts about Bathroom Storage Cabinet. 
There are several kinds of bathroom storage cabinets available. By making sure you get the right option will not only increase the storage capacity will make your bathroom looks fabulous. You can check modern bathroom furniture at Royal Bathrooms online store in the UK.